Here are the February 2016 judge anniversaries!
15 years
Robert McClenahan
from Albuquerque, United States
Richard Bourque from Cicero, United States
Guillaume Daoust from Montreal, Canada
10 years
John Trout
from Dallas, United States
Gareth Pye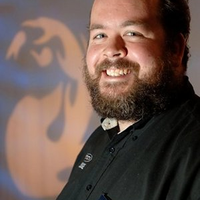 from Ivanhoe, Australia
5 years
Marc Parellada
from Sant Llorenc d'Hortons, Spain
Sam Robinson
from Avon, United States
Trevor Hayes from Issaquah, United States
Rodney Edwards from colorado springs, United States
Jeff Phillips
from Fridley, United States
Masaaki Arime from Uruma-shi, Japan
Stepan Dolgin from Kemerovo, Russian Federation
Zakary Whyte
from Montgomery, United States
Adam Kolipinski
from Warszawa, Poland
Dmitry Kurgaev
from Samara, Russian Federation
Kevin Long
from Los Angeles, United States
Petr Nahodil from Brno, Czech Republic
Congratulations, and thank you for all your hard work!
This month we are featuring Gareth Pye from Australia! First, we have the Australian RC,
Nathan Brewer
, who has a few words about Gareth:
Gareth is a mainstay of the judge community in Australia. He's been a fixture at events big and small throughout his 10 year tenure as a judge,
and his ready smile has helped lift the spirits of countless judges and players. Gareth can always be counted on to lend a hand when needed, and
he's as passionate about the program now as he was when he first started.
Congratulations on your 10 year anniversary, I hope to have you as a part
of the community for many years to come.
Next we have Mark Brown
, who also spoke very highly of Gareth:
Gareth is one of those judges that gets involved in things because he cares and enjoys helping people. One of the things he's doing at the moment that is providing useful information is keeping track of PPTQ attendances around Australia & New Zealand. This isn't something he was asked to do, he took it upon himself to do it and provides analysis and comparison with previous seasons as each season ends. It's things like this that make Gareth a valued member of this community. Keep up the good work Gareth and congratulations on a fine 10 years judging.
Happy anniversary to all of you!  We look forward to many more years of judging from you all.