Here are the December 2018 judge anniversaries for which we have historical data!
15 years
Mike Noss
from Springfield, United States
Lorenzo Gigli from Ancona, Italy
10 years
Jacob Faturechi
from Sylmar, California, United States of America
Luca Clemente from Vitulazio, Italy
David Clavel Iborra
from Valencia, Spain
Kreon Tseroulis
from Athens, Greece
Emilien Wild
from Namur, Belgium
5 years
Brian Hardie from Port Charlotte, Florida, United States of America
Dylan Duvall
from Morristown, Tennessee, United States of America
Rick Miles
from London, Canada
Akos Kenyeres
from Budapest, Hungary
Algirdas Neniškis
from Vilnius, Lithuania
Sasan Mottaghipour
from Odense, Denmark
Sebastian Braune
from Dresden / Chemnitz, Germany
Humberto Rivera from Monterrey, Mexico
Adam Cousins
from Thunder Bay, Canada
Matthew Riecks
from Westminster, Colorado, United States of America
Jonathan Aiken
from Cookeville, Tennessee, United States of America
Logan Witthuhn
from Green bay, Wisconsin, United States of America
Julian Martin
from Fresno, California, United States of America
Carl Cantrell from Sarasota, Florida, United States of America
Christopher Vosmik
from Schaumburg, Illinois, United States of America
John Mills
from Fresno, California, United States of America
Shinji Wada
from Shizuoka,Hamamatsu-shi, Japan
Manoel Cailliau from Antibes, France
Leonardo Villela
from Rio de Janeiro, Brazil
Jacob Kriner
from Chambersburg, Pennsylvania, United States of America
Gustavo Ortiz
from Puerto de la Cruz, Spain
John Winter from London, Canada
Alan Gadbois
from Round Lake, Illinois, United States of America
Dean Valenti from Laingsburg, Michigan, United States of America
Brandon Manning from Bloomington, Indiana, United States of America
Justin Bock
from Twin Falls, Idaho, United States of America
Kevin Freeman
from Overland, Missouri, United States of America
John Say
from San Juan, Metro Manila, Philippines
Stjepan Sučić
from Sisak, Croatia
Jesse Meiring
from Toledo, Ohio, United States of America
Viacheslav Mariyko from Kyiv, Ukraine
Luca Morelli from Milan, Italy
Alex Gardner
from Toledo, Ohio, United States of America
Volodymyr Liashenko
from Kiev, Ukraine
Takao Yamaguchi
from Aichi, Nagoya, Japan
Philipp Hary
from Dresden / Dohna, Germany
Denys Shelepov from Kiev, Ukraine
Alexander Papageorgiou
from Thessaloniki, Greece
EJ Drew
from Vacaville, California, United States of America
Adam Eidelsafy
from Brooklyn, New York, United States of America
Alicia Anderson from Denver, Colorado, United States of America
Justin Huffman
from Auburn, New York, United States of America
Sjoerd Reijke from Deventer, Netherlands
Simon Walker from TOWNSVILLE, Australia
Mike Luna
from Canyon Country, California, United States of America
Lorenzo Gigli from Ancona, Italy
Hyung-jin Kim from Gwang Ju, South Korea
Jerry Quiros
from San Ramon, Costa Rica
Rodolfo Nuñez from San Ramon , Costa Rica
Kyle Harnois
from Taftville, Connecticut, United States of America
Congratulations, and thank you for all your hard work!
This month we are featuring 4 judges: Sebastian Braune, Alex Papageorgiou, Mitsunori Makino, and Juan Del Compare. First up, we have Sebastian, who is celebrating their 5 year anniversary with his RC,
Stefan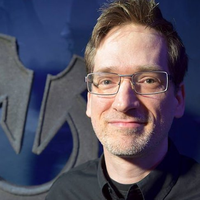 :
It is my absolute pleasure to congratulate Sebastian Braune for his 5-year anniversary! Sebastian can easily be noticed due to his height, but his presence goes far beyond that. He is a tireless traveler to events and conferences, where he is a successful presenter, and can frequently be found at GPs, where he infects both players and fellow judges with his enthusiasm and positive attitude. These qualities are also noticeable on our regional Discord server, where he frequently brings a voice of calm reason and friendliness to discussions, paired with his deep rules and policy knowledge, which he also applies to his many contributions to projects, such as the translation of JudgeApps test questions into German. Oh, I didn't mention that Sebastian is also an Area Captain in my region, where he does a great job serving his community as mentor and conference organizer. Here's to many more anniversaries!
Next up, we have another 5 year anniversary: Alex.
Yuval
was excited to say a few things about an excellent judge from his region:
With a huge smile and a crazy outfit, Alex is truly a jack of all trades. From his active role as the area captain for Greece, through L2 mentoring, to his involvement with the international L2 conference, Alex is one of those judges who enjoy helping and pushing initiatives forward. Five years seem so little time when I think about all the work we've done together and the impact Alex had on his country and our region. In addition to all the projects he's involved in, Alex cares about the social aspects of judging and invests a lot of time and energy into creating a sense of belonging and community in his area and the region. I hope to see Alex as a judge for years to come, with his great insight and wacky ideas.
As we approach the end of 2018, we get to celebrate 2 more Level 3 anniversaries. First, Mitsunori Makino certified for Level 3 at Worlds in Memphis, Tennessee back in 2008. Former Regional Coordinator of Japan,
Kenji Suzuki
, had this to say about the current RC of Japan:
"I'm really happy to write the anniversary comment for Makino-san. He has been one of the strongest and most impressive judges in Japanese region. He has contributed to Japanese judge community for many years, from the very early stages of Japanese Magic history until right now.
When talking about Makino-san, I need to mention that his location, Hokkaido (very northern part of Japan). If you live in metropolitan city with lots of LGS, such as Tokyo, it is easier to find tournaments, judges, and your mentor. If you are in a remote area, you need to make your environment by yourself. I have lived in Tokyo for years so I'm not actually able to understand his difficulties but I'm pretty sure he has tried very hard to find experiences as a judge.
Even though his environment is harder for him, his presence in Japanese communities continued getting bigger. He was promoted to level three in December 2008 and he became a senior judge both in name and reality.
Japan hadn't had any new level threes for several years, so Makino-san was one of the "core member" at every point of major Magic event, such as GP or Nationals. Japanese judge community has long unique history. In Japan, judges needed to act as not only as a judge, but also a TO, or sometimes Hospitality staff. It means judges need to work hard and senior judges need to work even harder. He worked really well as level three for years and he has been essential part of judge community.
Talking more recently, he took over the RC role from me several years ago. Nowadays there are lots of things RC need to do. Even though he needs to do these things, he is still working even harder. For example, we now have many projects in Japan, which we didn't have in my RC period. Japanese judge communities are getting bigger and better, which is one of Makino-san's achievement.
Today, we have great young judges but we still need seasoned judges such as Makino-san. I hope he continues to play a strong role in Japan. Congratulation Makino-san! Keep it up!"
While 10 years as a Level 3 judge is a long time, our other Level 3 judge for this month is celebrating twice the feat. Juan Del Compare has been a Level 3 judge for 20 years. We asked his Regional Coordinator, Adrián Estoup, for some words about Juan. He shared his thought below along with comments from a couple other Magic judge veterans.
Adrián Estoup
:
"It is difficult to write down these words to take a real dimension of what is 20 years. Perhaps for what we call "universal history", 20 years is a relatively short period of time, but for us, in our own lives, it is a really significant period. It is enough to see what has changed in ourselves, how our lives changed, how they were influenced by those of others.
In a game that is turning 25 years old, there are few people who can say that they have been high level judges for 20 years, and I have had the pleasure of meeting one of them, I am lucky to have met Juan.
Talking about Juan is not only talking about Argentine Magic, but also talking about Latin American and Worldwide magic. In every project, in every story we can tell, no matter how old or young, Juan has always been present.
We can find Juan among the judges who took the test when the Internet was something that was just being born. We can also find him in the stories of those who traveled thousands of kilometers to be able to take a test or to teach the game, visit distant countries and be part of emblematic tournaments that were so special that the judges had to wear alternative costumes. Juan also appears in the stories of those who had the honor and responsibility to organize some of the most memorable events in the region such as the first Grand Prix Buenos Aires, putting on the TO hat at that moment.
But if there is something for which Juan is and will always be remembered, it is because he is the father of all of us who are now part of this community of judges in Latin America. All of us, looking back, can find Juan in our family tree as he was the one that started everything, the one that helped us all grow and the one that still continues to contribute to the best judges that this side of the world can contribute to the judges' program.
20 years is a long time, but it may well be a time in which we let things go by without leaving a mark, but this is not the case, Juan. Thank you for being the cornerstone in this corner of the earth, thank you for marking the path and thank you for leaving a mark, not only in the magic in general, but also in each one of us. Feliz aniversario!"
Riccardo Tessitori
:
"20 years? Are there really judges who are 20 years old? I had heard that the game had celebrated 25 years, but I didn't think there were judges with the title of "Ancient Judge"… is it the way I should call them.
JUAN! Wow, my far away friend from Argentina is one of them! One of the Ancients!
I wonder if it's like in the TV series of vampires, where the Ancient created all the others, and the life of others is linked to the life of the Ancient. No, I don't want to find out!
If you ask me when I met Juan for the first time… hey, I'm much younger than him! Our first meeting is lost into the mix of memories from tournaments; he's actually one of those judges who has always existed (like ancient vampires, indeed), and he has always been L3 indeed, and he has always had a long beard! Feliz cumpleaños, chico!"
Jorge Peñailillo
:
"They say that twenty years are nothing, Thanks for everything you did, do and will do for the Magic Judges Program in Latin America and the World. It is an honor to be your friend and to have been your Padawan. Thanks for the winter stews and pizzas, along with a good glass of wine, with your family in your home in Buenos Aires. A hug brother."
Best wishes to both of these fine judges for their decade(s) of service to the Judge Program as a Level 3!
Happy anniversary to all of you!  We look forward to many more years of judging from you all.