Notes and article by Jonah Kellman
.
Last Thursday, Megan Linscott
, our new RC, held her first fireside chat on discord. This one was run from 8 pm to 10 pm on 10/11/18 and was open to anyone interested in showing up and talking with Megan or other members of the region.
It was a loosely structured AMA (Ask Me Anything), so there were a few questions about the region and development of the judge program, amidst a variety of other chatter. We spoke about favorite books and what we've been reading lately, as well as the idea of pronouncing the philosopher "Aristotle" the way "Chipotle" is said. This was followed by a concern that there may be college students who do that and don't actually know.
It was a lot of fun, and very laid back. Many folks were playing Arena (or other games) while also participating in the chat. Show up, relax and enjoy the community!
If you're interested in what we talked about, most of the questions are below.
You're aiming to fill your former position in Io's relatively new NE Leadership Structure–how has that been working for Io
, and is it something you plan to keep in place or something you might reconsider?
The Leadership Council worked well for Io, filling the role of support and extra eyes or hands from time to time. As for the questions directed at Megan, "Sort of yes to both."
While she likes the structure of the LC, it isn't necessarily what she needs. It's still early on in her term, and she doesn't quite know what she needs from something like the Leadership Council. For the time being, she's going to keep things as they are, but may make changes as necessary to suit her leadership style. However, she won't be making changes just for the sake of having something new.
Are you going to be doing blue shirt stuff at GPs?
Absolutely! Megan just spoke with Sara Mox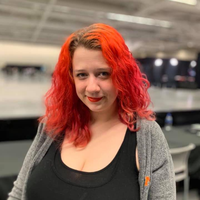 about the actual blue shirt* and will be around for GP Jersey as well as any other in-region Grand Prix (or Magic Fest). If you want to speak with Megan in her role as RC at these events, there will be a google form sent out. If you're not on staff but will be in attendance, you can also reach out to Megan through other means.**
*The conversation regarding the acquisition of the shirt was short. Most of it revolved around the value of pockets and longer sleeves. Also buttons and where they should.
This was followed by a discussion about books. Megan began this by mentioning that she can talk about werewolves for approximately an infinite amount of time, and this quickly evolved into a conversation regarding various urban fantasy series (yeah, we're a bunch of nerds).
**Contact information is available at the end of this article.
Megan, can you tell us how your first 11 days in office have gone?  Do you like it so far?
It's been good! It's a bit more work than Megan initially expected. The big jobs are what she expected, but there are a lot of small tasks that take up the RCs time, and it's surprising how much they add up. "It's like the joke about a pound of bricks and a pound of feathers. They weigh the same, but I'm probably dropping some feathers."
Is there anything cool coming in the next couple of months that you're looking forward to doing?
Given this question, Megan started by answering with a laugh. "I'm not going to be able to ease into this."
There's the conference coming up (this weekend now), which is exciting. There's a GP, which is exciting and intimidating, and there's an exemplar mailing this month as well, and it's really cool to see all the great things that folks in the region have done.
There's also applications for the L2 Tester Coordinator role, which just closed, followed by interviews and a selection.
Now that you've had some time to speak with the other RCs and program leadership, who are you excited to work with? Does anyone have great ideas you want to steal?
Megan's short answer to this question: "Everyone!"
The longer answer is that she's been good friends with both Jon Goud
(Canada) and Eric Dustin Brown (Mid-Atlantic) for a while, and so she's excited to get to know them. She's also getting to know Nicolette Apraez
(Southeast) better, and stole the idea of a discord meeting from her.
In particular, Megan plans to speak with Jon about his regional Hype Team, which has put together a variety of initiatives for developing the Canadian judge community. This includes coordinated local meetups for a nation-wide judge conference, as well as social media outreach and participation.
Is there anything in particular that you're worried about?
There aren't any particular tasks or elements of the role that Megan is concerned about. Instead, her biggest worry is that she'll make a mistake and let somebody down.
What's your vision for the region? If you could accomplish one great thing in this region, what would it be?
Community! The judge community is really important to Megan – she wants everyone to feel like they're a part of something great. It's not really a tangible or measurable goal, but it's what she strives for.
Being a judge has had an immense impact on Megan's life – it's shaped who she is. It's a place where she found belonging and acceptance and wants other people to have the same feeling of comfort.
You talked about how judging has hooked you. What are some particular memories that stand out that really makes you love this community?
Megan's memories that she recounted were mostly, by her definition, "silly memories". While she doesn't have the opportunity to go sightseeing often, she does take traveling for events as an opportunity to do this. Visiting the Washington Monument, she jumped the fence for a better picture, and at the Atlanta Aquarium, she got to see a massive whale shark.
"You meet people through judging, and they just sort of become a part of your life."
To follow up on the previous question, not everyone makes friends as easily or whatever.  Sometimes it can be hard when you see these other outgoing folks having a good time. Have you thought about folks like that?  What would you suggest they do?
"I love people, but I'm scared of people," Megan confesses.
Judging and magic have made it easier for her to speak to people. Of course, it's easy for her to say "Just go talk to people." However, to her, magic is like platonic speed dating – you go, you sit down, and you have an interaction with a person, get to know them, what they like playing, and you get to learn a bit more about your shared interest – Magic.
People may have started judging because they liked the rules, but they're here for the game and the friends at the end of the day. It's super scary, but it does get easier.
A connected story – in college, Megan was at lunch with one of her (introverted) friends when Megan jumped up from the table and rushed off. Her friend asked her what was up. Megan responded with "They have blue hair and a pokemon shirt. I need to be friends with them!"
Wearing something with a superhero icon or a game's logo on it is a sort of platonic mating ritual – it lets people know what you like and it's safe to talk to them about it. Even while in your judge uniform you can express yourself, with enamel pins. Megan wears a Planeswalkers for Diversity pin and a Golgari pin.
What's the thing you're most looking forward to in this role? I've never worked with you before but I'm excited to have the chance.
Megan is excited to do everything. She's a little less excited about the conference because it's a bit nerve-wracking to go up and speak in front of the region, but getting to have small conversations with people is very appealing.
On a less personal note, and on a more regional note, the community has given her a place to belong, and she wants to make that accessible everyone in the region.
So, when you first started judging, you probably didn't feel like you were really part of the cool kids.  Can you talk about when you realized that you were feeling like you'd found your people?
The first year Megan worked at PAX East was also the first time she'd been to a convention. That year they had billboards advertising the event that just said "Welcome Home." Being there and seeing all of the people who were expressing themselves, either through cosplay, or talking about their favorite games or stories was overwhelming and caused her to cry.
Seeing the people in costume walking into the convention center was like a pilgrimage of her people.
Megan still gets that feeling for GPs, with all of the players and judges in the hall, recognizing people, saying hi to them – it's an amazing feeling.
What do you think about the future of L1 and the L1s of the region?
We're at a crossroads right now – with the shift in PPTQs, there's likely going to be a redefinition. It's been a while since Megan was L1, and so she's interested in where L1 judges feel they are in the program and the community right now. (If you have thoughts, Megan's contact info is at the end of this article.)
Those L1s who were a part of the chat separately said that they felt like outliers – interested in judging more, helping mentor judges, but not being able to have the time or finding the opportunities. However, this is a relatively common scenario.
What's up with getting activity in Slack? Any plans? Does Slack give us data?
Currently, Megan doesn't have any active plans, but with her work with the Collected Company project, she has some familiarity and is looking for ways to further utilize it for community growth.
There's also some data regarding messages, new and inactive members, which you can view in this colorful spreadsheet!
If you had a magic wand, pun intended – what one problem (specific to our region) would you make go away?
One of the first things Megan would like to see is a return of midsize competitive events – events that require between three to six judges. There are a lot of events that require one judge (PPTQs) and a lot that require many (Grand Prix) but nothing in between, and Grand Prix aren't incredibly common if you're not willing or able to travel for them, which stunts development.
How often do you want to have these?
Megan would like to see more of these, especially if folks enjoyed attending or would be interested in showing up in the future.
The current idea is likely going to be once a month, possibly more frequently if Megan's schedule and interest line up. Currently, the next one is scheduled for Monday, November 12 from 8 pm to 10 pm, although it's not necessary to be there when it starts or to stay until it ends. If you haven't already, you can join the discord here.
In the meantime, if anyone has any feedback on this chat, she would love to know! What can she be doing better? What did you like or dislike?
Contact Megan:
Regional Coordinator Contact Form
Email
Facebook
Join the Slack