Welcome back, Judges! Our post this week takes us on a trip to Spain to learn a little bit more about an energetic and upbeat Judge who has a passion for her local community.
Name: Natalia Ruiz

Level: L2
Location: Sevilla, Spain
Judge Start Date: 7 October 2012
Why did you become a Judge? I didn't like playing competitively, but still wanted to be in the events so I thought about becoming a judge and also helping make a good event so everyone has fun.
Occupation: Digital Marketing / Architect
Favorite card: Telemin Performance
Least favorite card: Pulling Teeth
Commander General: Tolsimir Wolfblood (it's all about wolves)
Favorite non-Magic Game: Castles of Mad King Ludwig
Best tournament result: 10th in WMCQ Sevilla 2016
You were nominated for your high energy level and ability to smile and have fun across the duration of a long event day. What motivates you to stay so actively engaged and upbeat, especially during long shifts?
It is both loving Magic the Gathering and loving to make everything go right and well. Judging is something that I like and that I think I do well. That gives me the motivation to make an effort and judge as best as I can. So a big gathering from different people, enjoying a game together, is something worth fighting for.
What are some tips you have for other Judges?
Always keep learning. Judging is so full of tasks: rules, organization, client service, team-working, communication… Lots of areas you can develop. And during a ruling, if you are not sure, remember you are not alone; you always can consult a mate.
How has being a Judge influenced your non-Magic life?

Sure. My family still doesn't like it, but I don't care. The important thing is that after a few years, I realized how judging gave me the good ability to organize that can complement very well with my architecture knowledge. I helped once with the organization of an event in three rooms by making a floor plan and distributing the tables. Then I realized that my spatial vision and the use of CAD can help with the events organization, and began to focus my occupation to that.
Who have been some of your biggest mentors in the Judge Program, and what did they teach you?
First place to Miky Moya
. He is my trusted judge. I know he won't lie to me. He helped me with studying the rules. We made some examples about the CR and shared them and if I have doubts about something, he knows the most relevant links for articles.
Also AJ Rodríguez
. He knows I can't stand searching in forums, so he sent me some links to the more worthy topics and tried to motivate my searching.
I also have to mention Riccardo Mangano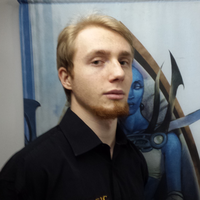 . He watched how I sorted the cards for a deck check and gave me some good advice. I changed my method thanks to him and I feel more comfortable doing DCs now.
What's the best part about your local Magic community?
That's difficult, I have met lots of people in different areas through the years. I don't much like the competitive circles, I enjoy playing in a little shop in a town near my city. Watching kids learning how to play and develop, and then playing against me, because I taught them. Young men appreciating your treatment and enjoying conversations and moments, more than just playing Magic. And the best is one man, a legacy player who has play since the game was born.
What is your favorite non-Magic hobby?
Playing Pokémon games. Pokémon Art Academy for relaxing. Pokémon Shuffle, Mystery Dungeon and Picross for evading. Pokémon TCG for socializing. The main games for feeling the character inner the story.
How did you get involved in Magic in the first place?
Well…my boyfriend in 2006 learned to play at university and taught me. I liked the game and began to go on my own to some casual tournaments.
If you could chat with one person, real or fictional, dead or alive, who would it be and why?
Tony Stark. I envy his childhood. I like machines and knowing how things work. I remember my childhood as "boring", and I think it would have been amazing having someone by my side teaching me engineering then. My heart is an engineer.

What is the proudest moment of your Judge life?
There was once a weekend event. On Saturday just a normal tournament, that was not expected to be big. We had 3 L1 judges against over 200 players, I think. The pc broke after working well with the FMNs and the tournament was delayed. All the TOs were desperate and the players angry. It was really tough and hard, and at the end of the day I couldn't be any prouder of my team =) We coordinated so well without words, like telepathy. That beautiful and comforting sensation.
What's the biggest rule-breaking play you've ever made as a player?
Well, I'm sure I have made some mistakes in the past, while learning to play well, but I didn't remember that. There is a recent one: I played a World Breaker to exile a Blood Moon… with green mana from a Grove of the Burnwillows. Neither my opponent nor I noticed. After that I didn't have any mana problems 
What character in Magic (real or fictional) represents you the best, and why?
Jace. He's an Architect, man. He is very intelligent and can do awesome things, but also felt the pain and fear of an incredible mind: "People's thoughts just come to me. Sometimes I don't know if it's them or me thinking." Even with his abilities of manipulating minds he had fallen in love with someone powerful and dark, and I think it is a beautiful story.
What would you be doing now if Magic no longer existed?
… OMG… I'd have to become a Pokémon TCG Professor.
Two Truths and a Lie
Two of the following statements are true and one is false. Figure out which!
Me and two friends have designed some counters digitally, for example poison counters, +1/+1 and loyalty counters. Then we have cut them out of a piece of wood with a big laser cut machine, and I always go to tournaments with a little plastic bag with some counters and a smell of burnt wood.
I BROKE Google.
One of many times I went to a MtG Grand Prix I was so tired that, on Saturday morning, I stopped the alarm unconsciously and continued sleeping. I woke up late and ran as fast as I could, but I arrived to the venue too late so I was already dropped and missed the main event. I was a random bye in the first round. Free points for some guy.
The answer to the last Two Truths and a Lie...
Billy Gilmore doesn't sleep on the right side of the bed at GPs; he only sleeps on the floor.
If there is a judge who is also doing something exemplary, please nominate a judge TODAY!