Greetings judges! This is Jacob Milicic
, Project Lead for Judge of the Week, here with a very special holiday feature for you all.
Judge of the Week is a difficult project with deadlines literally every week, coordinating between judges being interviewed, features to schedule and publish, and pitching and assembling special features. I came on as Manager for Judge of the Week in June of 2016, and in my entire tenure on this project we've not missed a single week. To claim that success as my own would be deception of the highest order. Behind the scenes, we succeed because of the outstanding efforts of our amazing team of writers, our proofreaders, and our leadership team, all to bring you the stories of rockstar judges every single week.
Keeping in the spirit of the holiday season, I wanted to give my team the appreciation and recognition they all deserve for the job they do. This project would not exist without the continued efforts of these hardworking volunteers. Since they donate their time and energy every week highlighting others, I think it only fitting that I return the favor for them.
Today we begin with the backbone of our project: our current roster of principle interviewers and writers. This role is obviously critical to project success, and these people follow an interview from initial contact to writing up the draft and through working with our proofreaders, right up to publishing. Every interview is a substantial amount of work to get to publishing, and our team consistently delivers features we can all be proud of.
Without further adieu, I bring you the Judge of the Week team as your Judge(s) of the Week!
Benjamin Coursey
(Writer)
I have enjoyed every interaction I've had with Ben Coursey, up to and including him schooling me with Affinity when I was playing Infect during a Team Modern event (don't play into Spell Pierce trying to remove his Spellskite if you don't have to). When he's not crushing Modern Main Events at GPs, Ben has been handling some heavy-hitting features for our blog, and consistently delivers a quality product. Ben has also been promoting our features every week on JudgeApps since September of 2016 and is one of our most-prolific writers with 16 published features to his name, including our interview of Meg Baum and the first-ever RC New Year Special Feature from 2016.
David Silva
(Writer)
I've been working with David Silva since he came onto the project in the summer of 2017. We've not yet had an event together, but given our online interactions I feel I can speak well of his tenacity. We had a feature published earlier this year that had a colossal amount of back and forth with the nominee, and David stuck with it, keeping the lines of communication with me open and letting me know when the dialogue appeared to dry up so that I could assist with the poking. His patience in dealing with this feature was remarkable, and throughout he remained constantly committed to delivering a high-quality feature for the blog. Additionally, David was responsible for our first and so far only ever dual-interview featuring Imogen Tilley and David-Lyford Smith, along with our PC interview of CJ Crooks.
Dennis Xiao
(Writer)
I was impressed by Dennis Xiao the first time he submitted a draft, as it was already perfectly-formatted by our standards. Clearly Dennis was someone who read the startup material we had started given to our new interviewers and really took it to heart. Dennis further performed by taking each assignment he was given and staying on top of contacting the nominees and following through to get their interviews ready. One secret of Judge of the Week is that we can often find ourselves in positions where we're starved for features due to varying response times from nominees, and because of that it is important to have people who are capable of turning a nomination into a feature quickly once responses have been received. For examples of his work, check out our features on Kali Rainwater and James Hockman!
Joe Klopchic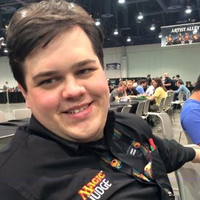 (Writer)
Yet another example of a writer who submitted an excellent first draft, hitting the quality target right out of the gate. Thus far Joe Klopchic's only feature has been Monica Gonzalez, but that just means he's tied with me for number of features published on this blog. That is, until today. Seriously, though, Joe is clearly a talented writer and I look forward to him pulling additional nominations in 2019 and turning them into high quality features.
Lloyd Dodson
(Writer)
Good communication is critical to success on a project like Judge of the Week. The leadership team especially often needs to know important details quickly to be able to adapt the schedule. Sometimes we receive feedback from the floor of an event, and Lloyd Dodson has delivered some incredibly important information to our team this year about pending interviews. He spoke with some nominees who had not gotten further traction on their interviews, and this helped us identify where we needed to provide assistance in getting those features to publish and, in one case, helped identify a feature that somehow fell through the cracks. So in addition to his own outstanding interviews of Nelson Mendoza Moral and Graham Schofield, Lloyd was critical in ensuring our interview of Alex Jacques happened at all by informing me that the nomination had come up missing our lists.
Matt Karr
(Proofreader)
In many ways the proofreader role is the most thankless job of all on Judge of the Week. While your hands are often in many of the features that post, you don't get credited as the writer, nor do you get credited as an editor. Hrm, perhaps I should work on that second part.
Matt Karr was the most-active proofreader when I came onto the project, and his service has been invaluable. It is rare indeed to get a feature draft submitted that is not in need of at least some editing, and it would be difficult to overstate how necessary a quality-focused set of eyes is on improving the finished product. I don't have a hard number for how many features Matt has had a hand in, and I know for a fact that the one traceable count I have of 16 is egregiously low compared to the real count. To top it all off, any of you who have shared in my privilege of working with Matt Karr know what I mean when I say he is delightful to work with. His is highly personable, deeply invested in a the notion of a job done well, and capable of communicating critical feedback with radical candor.
Milan Majerčík
(Writer)
My first notes on Milan Majerčík, looking back on my records from July 2017, are "fantastic attitude, love the positivity, this enthusiasm is what we need to thrive." Judge projects are made or broken by the enthusiasm of their members. It is the single most important driving force for all project efforts in the program. Milan does not just have enthusiasm and a positive attitude, though. Milan delivers. When tasked with the first Exemplar Vanguard feature, an interview of Tomasz Ludkiewicz, I challenged Milan with a tight turnaround time. We wanted to be ready to publish at the same time as the Exemplar project, and Milan delivered a great feature earlier than the deadline I gave him! Since then he's been given each Exemplar Vanguard feature, a special responsibility he has earned and proven himself on. Check out his features of Travis Lauro and Alistair Crook!

Kriz Cardona
, Rocky Wyss
, Sydney Townley
(Writers)
Onboarding with the Judge of the Week project can be a difficult process, especially when we all have many different plates we're spinning that occupying our time and attention. These fine folks are all people I know will do great things on this project, and I would be remiss in not recognizing them here as well. Everyone has to start somewhere, and I'm excited to see what Kriz Cardona, Rocky Wyss, and Sydney Townley will bring to the table in 2019!

Stay tuned for Part II next week, where I'll showcase the excellent people we have in our leadership team as well as our cadre of project advisors. And as always, if you know of a judge doing something excellent, please nominate that judge today!