Welcome back to Judge of the Week! This week's rockstar is a movie buff and mainstay of the Baltic Region. Congratulations, Kaupo Liiv!
Name: Kaupo Liiv

Level: 2
Location: Tallinn, Estonia
Judge Start date: I did L1 exam in 2010, but as L0 from 2006
Why did you become a Judge? I was organized play manager for Baltic States already at that time. Becoming judge was something that seemed logical and I'm very glad it became part of my life.
Occupation: Gaming store manager
Favorite card: Icy Manipulator
Least favorite card: Moonlace and other cards that are waste of space in a limited pool.
Commander General: Rhys the Redeemed
Favorite non-Magic Game: Former World of Warcraft TCG
Best tournament result: Estonian Championships semifinals
Random fact about yourself: I'm kind of a movie freak.
Tell us your favorite Judge story.
I guess it's my favorite, because it's about how everything started for me. The year was 2006 and I was an L0 with no real experience except judging FNM and prerelease events. As a spectator, I was at Paris Worlds (best location ever) rooting for Estonian players and doing some sightseeing. I was just walking around the site, when someone grabbed my shoulder from behind. That was my regional coordinator, Johanna Virtanen
. Because there was shortage of judges, I was immediately recruited. What was my first real event? A vintage event with around 150 players that ended around 2 a.m and it happened at WORLDS! I hadn't even seen Black Lotus before and then suddenly I was doing deck checks (with shaking hands) for decks with all expensive and legendary cards. That was awesome!
What are some tips you have for other Judges?
This goes to all new judges. ALL JUDGES MATTER! The spectrum of judges is broad. Some are very charismatic and flashy and others are not so much and prefer to be on background. Everyone's a little bit different, but all judges matter. Just find the place where you are most comfortable and enjoy being a judge. Try to learn something every time you judge and improve yourself. If you are a proud of your progress and are enjoying judging, it shows outside as well. Everything else, experience and knowledge, comes with time and practice.
What is your favorite non-judging moment that happened with other Judges (or after event story)?
It's not a story, but small rule to all judges. I have broken this simple rule too many times myself, but never miss judge dinners after the big events!
How has being a Judge influenced your non-Magic life?
Well, it has definitely made me a better person. It has taught me much and given experience I have never gotten from anywhere else. The judge community is kind of a big pool of knowledge, and not only rules wise, and this knowledge is constantly shared among judges.
Who have been some of your biggest mentors in the Judge Program, and what did they teach you?
Biggest thanks goes my regional coordinator Johanna Virtanen
. She's been backbone of our region as long as I remember and teached more than any other. Also Stefan Ladstätter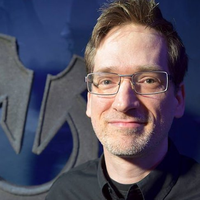 , Jona Bemindt
, Ivan Petkovic
, Thomas Ralph
, Daniel Sole Garcia
and always inspiring Riccardo Tessitori
to name a few who have helped me to become better judge in Grand Prix level events!
What positive aspects has the Judge Program contributed to your everyday life?
Being a judge allows me to travel all over the world and meet other people from every corner of the world. If that's not amazing, I don't know what is.
What is your favorite non-Magic hobby?
Apart from anything connected with movies, it would be photography. I take a lot of photos. I like street and wildlife photography. I'm very amateur in this, only a bit more than just point-and-shoot, so can't really tell something special. Capturing emotions and moments. Street photography helps me to notice more what's around me.
If you could chat with one person, real or fictional, dead or alive, who would it be and why?
That would be Italian writer and semiotician Umberto Eco. Among all the people I have known or read about, he had the broadest view of the world.
Two Truths and a Lie
Two of the following statements are true and one is false. Figure out which!
I went to cinema 36 times in February.
I like constructed formats more than limited.
I like pineapple in pizza.
The answer to the last Two Truths and a Lie...
Antonio Zanutto is not actually a master Chewbacca impersonator.
If there is a judge who is also doing something exemplary, please nominate a judge TODAY!