Welcome judges, to another special feature week, of Regional Coordinators features.  While last week we saw a second showing (the first time a judge was featured twice on JotW), this week is a double feature!  This is the second time Kevin Binswanger, L3, from Austin, TX has been featured on Judge of the Week as well!  (maybe we are seeing double!)  He's the regional coordinator for the USA-South, covering Arkansas, Kansas, Louisiana, New Mexico, Oklahoma and Texas!  
When did you become a Judge?
I celebrated my 5 year anniversary this January, so I certified in January of 2008.
Why did you become a Judge?
I was hanging out in #mtgjudge on IRC, and all the judges had these cool travel stories and had this awesome community I wanted to be part of. It turned out some people I knew online, like Abraham Corson
and David Kleppinger, were actually judges in my local area, so I met them at a prerelease. After that, I was hooked!
What advice would you give to members of your region?
Talk to me! There are many things going on in my region I would support with advice or recognition or the help of other interested parties, if only I knew what they were up to. The best part of my job is when I take a judge who wants to achieve something (such as advance to Level 2) and pair them up with judges who have just accomplished something similar and looking to help others out.
What advice would you give to a Judge growing up through the program?
Find a mentor. Get someone personally invested in you and helping you achieve your goals. If you're interested in L2, find a senior L2 or an L3 judge who is not just another judge, but someone who will work with you and help you grow. You can't do it all on your own, so it's essential you find someone and work with them one on one.
How do you not lose your mind as a RC?
Delegation! Andy Heckt
likes to say, "If you're doing it alone, you're doing it wrong." I am constantly looking to other people to help organize events, gather information, mentor other judges and things like that.
Could you recognize a few outstanding members of your region?
Mitchell Waldbauer
has been running a weekly Skype session with a group of judges who are interested in advancing to Level 2. Each week he covers a different topic of rules or policy.
Michael Kersch
just finished a long run (at least a full year) as my Level 1 Judge Coordinator. He was the principal point of contact for people that were interested in Level 1; he was doing a ton of work talking to them, getting them ready to test, and passing them on to local L2 judges to test. In addition, he was also testing a large number of candidates locally, and being a major leader at events. Joshua Locke has since taken up this job, and he's been doing a ton of work helping candidates prove their knowledge and then finding them an opportunity to test.
Does your family travel with you?
Nope. Occasionally, though, I judge events in Atlanta so I can travel to see my family.
What has been your best experience in the Judge Program?

The people!
What motivates you to continue being a judge?
The people. There are still things I want to learn and improve and master, but for me the principal joy of judging events is seeing my friends. Some of my closest friends I see once every few months at Grand Prix.
What has been your favorite magic event that you've judged?
GP Vegas was one of my favorite events. Vegas was just so crazy and busy, every round was a new challenge. And whenever things got tough, I could stop and marvel at how many people showed up!
What hobbies do you have outside of Magic?
I play a lot of ultimate frisbee and soccer. I am also going to start taking parkour.
How often do you Travel for Magic?
This year I had 5 Grand Prix in my region, I am attending two outside my region, and I also attended the Pro Tour. Only of those GPs was within driving distance: the bane of living in Texas.
What are some of your Regional Goals?
Last year, USA – South grew and we brought a ton of new judges into the family. This year I am focusing on helping give those judges the tools and resources they need to advance to Level 2 and become leaders in their area.
What is the worst tournament you have judged?
The worst tournament was a local show where I called up the TO the week of to say, "I can help you find staff if you don't have any, who is your Head Judge?" and got put in charge of doing everything. We had 80 people running two tournaments AND scorekeeping.
Tell us an embarrassing story that you're not afraid of everyone knowing.
I was working an event recently and my pants ripped. Completely. There was something like a five inch tear along the backside and down one leg. Every round I had to duck into the bathroom and try to tape them up again.
How has being a Magic Judge influenced your non-Magic life?
Being a Magic Judge has made me a better person. I mellowed out a lot from the person I was in college, and I gained a ton of new skills. I've led teams, organized staffing, set up logistics, done customer service roles, presented to large crowds; being a Magic Judge is sort of the opposite of my day job as a computer programmer.
Who are your role models within the Judge Program? What are the qualities that drew you to them?
Some of my role models include: Aaron Hamer
, Gavin Duggan
, Jared Sylva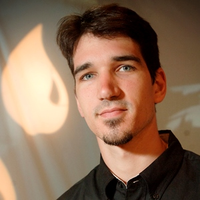 and Nicholas Sabin
. They are all incredibl
y smart people who have such incredible insights on the game. I sometimes go down a line of thinking and they can say, "Did you consider this?" and it's suddenly so obvious, and ridiculous to have thought about it any other way.
How do you have fun during events?
I like to talk to people. I'm normally an introvert, but there's something about the role and the energy that flips a switch at events. So I will walk the floor and talk to players about their playmats and their experiences. I'll talk to judges and discuss rulings or crack jokes and try to encourage people.
What is your favorite "after event" story?
Lee Sharpe
organized a karaoke outing after Pro Tour: Return to Ravnica in Seattle. It turned out to be the most wild, incredible experience ever. Everybody was everyone's best friend that night! People got up on stage and danced, multiple players and judges alike had some crazy moves. The Czechs drank out of the trophy (and I heard they got sick; probably nobody washed it), Aaron Forsythe got coaxed into singing. One of the things that stands out most to me was that people convinced Stanislav Cifka (the champion of that event) to sing Queen's "We Are the Champions"; the whole crowd sang with him and literally supported him. There may be rivalries during the game, but at the end we're all one community.
Thank you once again, Kevin, for giving us your time and attention for another great interview!  See you next week, Judges!