Judges, greetings! We are celebrating the achievements of top Exemplar recipients from Wave 12. We asked them, "What is your favourite event team or judge project you have participated in and why?" Part 1 of the feature can be found here. Here's the second group of responses:
L2 Mikaël Rabie
of the France region received recognitions for areas ranging from articles about investigations to providing card counting challenges to GPs.
His response: One year ago, with some judges, we got the idea to bring counting scenarios to tournaments. The goal was to provide challenging ways to learn how to handle those kinds of situations. I was a little bit worried about the feasibility of regularly crafting scenarios, and how they would be received by the community.
One year later, we have a project running with a dozen of active judges to craft and test scenarios, and bringing those to large and local events. The Card Counting Challenge project has went beyond what I could have imagined. I am happy to see the regular basis scenarios that come and the good feedback we got.
The project is still very active and open to volunteers, we publish regular updates, and all the scenarios are available to be printed (8 scenarios so far). I cannot wait to see what the team of the project will bring next, as we are always looking for new ideas.
L2 David Jimenez
of the Hispanic America-North region received recognitions for areas ranging from straightening out a draft at Nationals to helping update exam content.
His response: My favorite event team has been Kickstart at GPs. While there isn´t much "judging" when you are on this team, it allows you to find out other aspects of being a judge that many miss, for example, doing logistical stuff.
One other really neat thing of this team is that you manage to interact with all the HJs of side events; this allows you to calm them down in case they are nervous and, somehow, I feel it creates a bond of trust between both. Finally, I always need to be doing something and on this team, you have to accomplish tasks all day.
L3 Maria Zuyeva
of the USA-Southwest region received recognitions for areas ranging from her excellence as a sides lead at GP Houston to her proactiveness on a L3 panel.
Her response: The most fun team I've ever been on is Kickstart at GPs. I think I liked it before it became a thing 🙂 In my experience, at first it was Swiss team's job to do what Kickstart does now – coming up with starting table numbers, preparing product, making sure everything is good to go. Long time ago, when events were starting every hour, it wasn't a demanding task. (Wow, I talk like a dinosaur, and it's been like, what, 2014?)
Then SCG GPs started not only launching events every half an hour, but also several of them at the same time! I am not sure who was the first one to use a Kickstart team, but I saw this at a US GP, and really liked it. The Kickstart lead, who then was appointed from among the Swiss team, was using a nice and colorful map with Post-It notes, and I fell in love with the colors and ease of using it. I picked it up, and I could be seen hoarding maps and sticky notes at several US GPs in 2016-2017.
The idea was that we had a schematic (or sometimes very accurate) map of the floor, and dry-erase markers or Post-It notes with tournaments that we put on the map. It let everyone see where the events were, how much space was left, where the next tournament could be put, etc. We also had other stickers with judge names on them, and could move judges around, and also see how good floor coverage was in specific areas. If you needed to find a judge, or an event, you didn't have to walk the whole venue floor – you could just look at the map! It has evolved since then, and no one seems to be using those maps anymore, I kinda miss them. But I agree that technology is our future, so, yay for using it now! 🙂
L3 Carlos Ho
of the Hispanic America – North region received recognitions for areas ranging from pitching ideas to Channel Fireball Events to being a stellar appeals judge at World Magic Cup 2017.
His response: When I just became a L4, recognitions in the judge program weren't that common at all. The judge manager back then, who knew me pretty well, suggested that I focus on doing recognition projects. I started doing high profile recognitions at Pro Tours (back when they were large events). These would normally take place during staff dinners, where we would do a short speech on the person(s) being recognized. Funny thing is, we were already doing this in the few Latin American GPs we had, so it was just a natural extension of it. You can see similar initiatives nowadays, like the recognitions CFBE and the head judges do at GPs during staff dinner, and I'm extremely proud of helping making these more commonplace.
L3 Matteo Callegari
of the Italy and Malta region received recognitions for areas ranging from helping design a Team Trios Limited Guie to discussing the L3 advancement process.
His response: My favorite team in recent GPs was team Paper on day 1 of GP Manila 2017. This was my first time at a GP in the South East Asia region and I had a very limited knowledge of judges in the area.
The experience we had as a team was incredible! I've never witnessed before such a dedication and passion in performing even the smallest tasks and such infinite curiosity of learning why and how we do things at events. Curiosity is the first step for self improvement! And finally all the personalities in the team fit so well together that we became in such a short time frame not a team but a group of friends working together while having lots of fun!
QJ Wong
, Goh Wee Thean
, Hao Du
, John Reuben Ferrer
: can't wait to see you again!
L2 Tobias Vyseri
of the Canada region received recognitions for areas ranging from helping with a distant judge candidate to writing compelling tournament reports.
Her response: Two projects actually really stand out to me:
The first one was a putting together a presentation for a judge conference, this was super fun because I don't really present a lot, so the offer came with a lot of challenges and opportunities to learn! Putting together a 30-50 minute presentation was such a daunting task. I didn't know if I could talk that long about what was essentially a beginner's guide to Grand Prixs. I was also worried it might be super boring, so I made sure to fill the presentation with lots of jokes and silly pictures to keep people entertained. I was really nervous about going up and speaking in front of people of the peers I respected, but in the end I feel like all the hard work and preparation really paid off.
The second project is still in progress so I can't say much other than I'm working on some custom tokens with Mike Gyssels
for the Canadian Judge Program and they are going to be SUPER COOL. 😉
L2 Erin Leonard
of the USA-South region received recognitions for areas ranging from editing The Feedback Loop to mentoring local judges.
Her response: GP Portland 2016 Registration Team.
My third GP. First time as the registration lead. Didn't know anyone on my team. Found out on Thursday at 8pm that we would be taking credit cards for the first time ever.
These folks STEPPED UP in a big way. Despite my lack of experience, my plans for accepting cash being useless, and my unfamiliarity with everyone, this team came through and made the weekend both successful and fun. Each of them contributed to accomplishing our team's tasks as well as making me a better leader, a better judge, and a better person. Thanks Jack Cummings
, James Anderson
, Kat Lee
, Matthew Johnson
, Robert Riley
, Katie Bishop
, Lamppost, Ashley Flaherty , John Mills
, Phillip Painter , and Chris Davis
for an unforgettable weekend!
L1 Sydney Townley
of the USA-South region received recognitions in areas ranging from scheduling a monthly Judge Breakfast to performing well at side events at Grand Prix Oklahoma City.
Their response: I have had the pleasure of being a part of a lot of amazing teams in my time judging but I find that the time that I was on the Deck Checks team at GP OKC sticks out in my mind.
Deck Checks are my favorite position to work at events, but I also had the pleasure of working with a stellar team of judges that I respect highly. I am always looking to improve and I gained a great deal of insight from a lot of amazing people at that event that helped become the judge I am today.
L2 Omar Gonzalez
of the Hispanic America – North region received recognitions for areas ranging from his work at GP Houston to standing his ground during a Hidden Card Error ruling at GP Santa Clara.
His response: My favorite event team is the Breaks team, and especially at GP Houston, where I got the chance of working with so many awesome judges and having an amazing time (thanks to the team lead EDB and Emmanuel Leal
).
Breaks gets to be my favorite team because you are moving all day doing different things while covering all teams. This allows you to interact with all the judges in the GP at some point, which allows me to learn to be a better judge.
L2 Witold Waczyński
of the Europe – Central region received recognitions for mentoring judges at GP London and GP Warsaw.
His response: The easy answer is: The best Judge Project is of course the Travel Guide project lead by AJ Rodriguez Jimenez
– it's a lot of work, but it's very helpful for everyone!
But for me it's about the face to face interaction with other judges. And I've met so many great people, that it's hard to decide. But I think each time I'm leading other judges, it's more impactful for me. I'd like to recall my first SSS as the HJ with 200 players and Kenny, Piotr, John, Jasper and many others who helped me overcome the stress and run a great tournament. It's always about the people!
L2 Gustavo Marin
of the Brazil region received recognitions for his performance at the CLM Finals.
His response: One of the teams that I took part in and that really occupies a special place in my memory is the one from Circuito LigaMagic, an independent Magic circuit in Brazil (currently the biggest one).
The event is a blast, with a very energetic atmosphere, and, since the staff isn't very large, there are so many opportunities for team adaptation, role experimentation, problem solving, mentoring and learning in genaral, that you can see the organization and the judges evolving right in front of your eyes. It feels like an immense laboratory, and I'm all for it.
L2 Erin Murphy
of the United Kingdom, Ireland and South Africa region received recognitions for areas ranging from stepping up to run a PPTQ to her swift and accurate answers to judge questions on social media.
I would have to say Deck Checks team for the Mega Modern side event at English Nationals 2017. We had around 170 players and 2 of us on Deck Checks, myself as support and Warren Hawkins
as Team Lead. I had hoped that this event would be the one to get me a Level 2 Recommendation Review, so had asked Warren if I could take the lead. We worked with such great synergy and got through many deck checks with great turnaround. The team energy spread as we brought more and more people in to help us swoop for decks and we both received great feedback for the great job we did. To this day, I still consider it one of the defining moments of my judge career. Thank you, Warren!
L2 Jackson Moore
of the France region received recognitions for areas ranging from handling ODEs at MKSM Frankfurt to bringing video games to the judge room at GP Lyons.
His response: My most enjoyable team moments have been when a huge problem hit and everything close to the "point of impact" was threatening to turn into a garbage fire.
Recently, people in charge have trusted me to handle these issues which not only entertains me but are also areas in which I can deliver.
L3 Mitsunori Makino
of the Japan region received recognitions in areas ranging from organizing judge conferences to his work as RC.
His response: My favorite judge project that I have focused currently is promoting the Exemplar Program. XP is useful to achieve what I like. The primary reason why I judge is I really love to see judges enjoy their activities, growing themselves up and contributing to the Magic community.
The Exemplar Program is a great program to recruit new judges, to make stalled judge find new fields and to learn new points of view. The more we promote XP, the more I can meet more judges enjoying judging. Every quarter I am encouraged by precious messages. But I have a bigger ambition. In some wave, I want to read hundreds recognitions by all judges who knows me.
L3 Dustin De Leeuw
of the BeNeLux region received recognitions for areas ranging from ensuring judges were hydrated at GP Toronto to giving a judge emotional support during a heartbreaking time.
His response: My favourite projects are the ones where we can actually impact and improve the Judge Program as a whole. I'm quite fond of the Team Lead Certification project, where we gathered feedback from a lot of judges, processed that feedback, and with a small group of dedicated judges managed to improve the TLC process and documents, to make the whole experience clearer and more convenient for all judges involved. I love the team effort and the creativity that hides behind something that on the surface appears as quite a stiff document. And it makes me happy to know that others are working on simularly important projects at many levels (literally)!
L2 Federico Verdini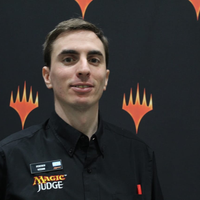 of the Hispanic America – South region received recognitions for areas ranging from guiding a judge through end-of-round procedures to presenting on layers at a judge conference.
His response: I've been in many projects, but the one that I enjoyed the most was the LatAm Blog. It was the project that accompanied me through my growth in the program. I had the chance to enter the project as a literary agent, became an editor/right hand of our leader, and since 2018 I'm the one leading the project. It was kind of going from FJ, to TL, and then to HJ of a project. All at the same time I was doing that same evolution in events. It's a really successful project that I'm quite proud of, and has taught me a lot about leadership and teamwork
L2 Patrik Fridland
of the Europe – North region received recognitions for areas ranging from his passion for a charity event and his customer service with a player who had anxiety issues.
His response: So as most are probably going to say, I have had the great honor of judging in some really awesome teams, but if I highlight one I like to look back into the early stages of my big event experience.
In Sweden each year we have a gaming convention called LinCon and for each for a lot of years they hosted the the Swedish Championships (Read unofficial Nationals and in the absence of Nationals) and in 2016 whilst I was still L1 I got the chance to go there and judge. The team I had the absolute pleasure of judging with had some really awesome people amongst other the team leader and Head Judge Patrick Ericsson
. Patrick and the other really helped me grow as a Judge, with feed back, laughter, opportunity and love.
It's teams like those I look back at, especially when having bad days. Reminiscing about all the warmth and love there is within the Judge Program. It's teams like those that give me energy to try to better myself as a person, that give me the spirit to host charity event and try to better my fellow judges. As I know how awesome we are and how even greater we can become as a group, heck how awesome we can be as a family.
We are all awesome in some way, but as a group and team we are an unstoppable force.
L2 Pablo Quintero
of the Iberia region received recognitions for areas ranging from coordinating PPTQs to giving feedback at GP Liverpool.
My favorite team was during Day 2 at GP Kyoto'18. My Team Leader was Kentaro Guthrie
and I really enjoyed that event thanks to him. He put a lot of passion in order to make everyone having a great time during the day. We played a couple games while judging, getting a better experience during the weekend, allowing us to talk more between the team members and knowing more each other, growing as a team. I was a little nervous because of the language, but in the end I felt so comfortable even if I didn't know how to speak Japanese. Thanks, Kentaro-san!
L2 Jordan Baker
of the USA – North region received recognitions for areas ranging from answering questions about WER in the USA – Central Slack to helping the decklist lead at GP NJ and Portland.
His response: Grand Prix Vegas 2015 was a major turning point for me around events, in no small part due to working with the largest scorekeeping team ever for a Grand Prix. 10 scorekeepers, two events, eight flights, all working together to ensure that the largest Magic tournament ever was technically-run about as smoothly as a normal Grand Prix. This team allowed me to play to my strengths and gain needed experience in bringing my skillset to where it is today.
L3 Eric Dustin Brown of the USA – Midatlantic region received recognitions for areas ranging from  supporting a judge at his first Grand Prix to his work on the Feedback Loop.
His response: HASCON in 2017 provided me one of the most fun and unique teams I've ever been on — The Planeswalker Deck League. For three days the self-proclaimed "Hascon Hype Squad" (myself and Max Kahn
) received families of new players fresh from the learn to play and started them on the more advanced rules of the game.
I think Magic is the coolest game ever made and it was awesome to help introduce it to dozens and dozens of new faces over the weekend.
L2 Kentaro Guthrie
of the Canada region received recognitions for areas ranging from organizing an Unstable holiday judge gathering to performing well as the Day 2 L2 Paper team lead for GP Santa Clara.
His response: My favourite judge project so far has been the Cultural Exchange Project. The project aims at connecting visiting international judges with local Japanese judges and encouraging them to share their language, culture and experience.
I love seeing people share a laugh that might have never otherwise interacted over the course of a GP weekend. I really think that the project reflects the international nature of the Judge Program, and emphasizes the great experiences that a GP can provide.
L2 Yuval Tzur
of the Europe – East region received recognitions for areas ranging from reviewing JudgeApps exam content to mentoring a judge.
His response: I'm part of several projects, so picking just one is really hard.
I really like being part of the RSG (Random Situation Generator) app, which has become a staple workshop in a lot of conferences. I also enjoy being part of the JudgeApps exam content squad, which takes care of all the questions you might find on certification exams or practice tests (if you knew how much effort these people put into making everything tick, you'd be amazed).
And last, but definitely not least, the JudgeApps development team. Being part of such an integral part of the judge program is very inspiring, and I really enjoy writing the JudgeApps Help and Updates blog (which you can read here).
L1 Leanne Nesci
of the Australia and New Zealand region received recognitions for areas ranging from running great FNMs to making efforts to bring new players into the fold.
Her response: While not a formalised Judge Project, I am most proud of my opportunities to work with incredible local judges on community initiatives. Magic Open House days had demonstrated that a large number of participant's already knew how to play the game but were looking for an informal way to become more involved in the game!
We organised a free day for those looking for rules knowledge, deckbuilding skills, format education and product information. The day proved to be a success with many bringing in home brews to get advice on, or questions about interactions they often debate at home.
L3 Riccardo Tessitori
of the Italy and Malta region received recognitions for areas ranging from planning tasks for Program Coordinators to handling an appeal from a stubborn player.
His response: First, I want to mention that "judging" is to me the short version of "doing something good with other people," and one of the many opportunities to create something with others and contribute to a system that is bigger than ourselves is *projects*.
Let's choose one…
… that is about helping each other!
YES, I have it: "L3 mentoring and feedback in 2017" (https://apps.magicjudges.org/projects/540/)
It was a project that ran in 2017, was dedicated to L3s only, and was about collecting and offering feedback to those who asked for it.
The scope was limited: only L3s and only those who asked for it, and with feedback collected only from the Advanced Roles who wanted to dedicate time to it.
In addition to offering advice to the individual people who asked for it, it was intended to be a one-year one-shot initiative, with the goal to highlight the importance of mutual feedback and to stimulate other similar initiatives in the future.
I take this opportunity to thank the judges who offered feedback the most: Alfonso Bueno
, Frank Wareman
and Matteo Callegari
.
… and remember: *together, we are stronger*!
Congratulations again to all the top Exemplar recipients across the regions and thanks for their responses! We will update this post with any additional responses we receive.
And as always, if there is a judge who is also doing something exemplary, please nominate that judge TODAY!