Welcome to your August issue of Magic Judge Monthly!  I know we say this every month the last few months, but we have something new we're trying out!  Feature sections!  We're hoping to highlight important or new things within the program- and having a feature for some of the sections to show off new or important blogs, or important rules or news is something we hope you'll enjoy!
Check out the Documents and Community Sections this month for the first ones!
Happy Judging!

The Program Coordinators Blog has put out an update as to who has submitted applications and their answers to a few questions.  To see who has applied, their accomplishments, and what their views are of the future of the program, follow this link.
Wave 15 has opened for Exemplar Recommendations.
This blog post discusses the recent changes and the data they have from their implementation.
Regional coordinators:
Are you interested in being a Regional Coordinator?  Are you a Level 3 or very strong Level 2? If you had any interest on how to process is going and to see if your region is available for application, the requirements for approval, and who has applies at this point follow the link.  (Note: the application cut-off has at the point of publication closed.)
Judge Articles and Blog Posts from August 2018
The Feature

for this month-

if you missed it in the opening announcement: USA Northwest: The Northwest Passage!
More judge blogs can be found at the Judge Blog Portal.
In case you would like to discuss an article, visit our Judge forum. Don't forget to regularly check our Judge blog
Do you need a quick rules or policy answer? Ask a Magic Judge!
Program coordinator Q&A – Special Feature!!
Our feature for this month in Community, the program coordinators held a Q&A through e-mail. If you missed out posting a question in the forums, you can at least still read their responses HERE to some of the questions.
Judge Anniversaries
Congratulations to all of the judges who celebrated an anniversary in August 2018, including Todd Bussey
, Abel Jose Maria Flores Najera
, Haitao Jia
, and Riccardo Tessitori
!
Congratulations to all of our Judge of the Week — August 2018
268:Theodoros Millidonis
, L2 from Nicosia, Cyprus
269:Exemplar Wave 13, Part 1
270:Joel Bantiles
, L3 from Taytay, Rizal, Philippines
271:Exemplar Wave 13, Part 2
272:Meg Baum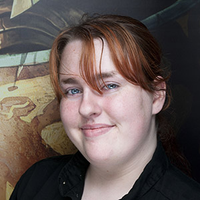 , L3 from Detroit, Michigan
Welcome to the Fold:
A big welcome to the following judges who worked their first GP in August 2018!
GP Brussels
GP Orlando
GP Los Angeles
GP Providence
GP Prague
GP Richmond
Questions asked in the Month of July and an [O]fficial answer, just for you!
1. A player casts Soulflayer, exiling a Knight of Malice from his graveyard to pay for Delve costs. When the Soulflayer enters the battlefield, will it have Hexproof?
2. A player controls a Gisela, the Broken Blade, that is currently a copy of Hanweir Garrison, and a Bruna, the Fading Light, that is currently a copy of Hanweir Battlements. This player activates Hanweir of Battlements' Meld ability. What happens?
3. A player activates the 0 ability of Tezzeret, Artifice Master and mistakenly picks up two cards, although they control less than three artifacts. These cards never touch the rest of their hand. What's the infraction - L@EC or HCE?
4. In a multiplayer game, the player under whose control Xantcha, Sleeper Agent entered the battlefield leaves the game. What happens to Xantcha?
5. AP casts Polymorphous Rush, paying the Strive cost to target three of her creatures - a Grizzly Bear, and two Ornithopters. When it resolves, she chooses NAP's Carnage Tyrant to copy. After all that, AP casts Fated Infatuation, and targets her Grizzly Bear, which is now a copy of Nick's Carnage Tyrant. On NAP's turn, what is that token creature? A copy of Carnage Tyrant, still? Or is it a copy of that Grizzly Bear?
New Judge Booth content
Thanks to the work of some tireless contributors, we now have new content for M19 and Dominaria available on the Judge Booth!
Judge Program Organizational Chart
It has been over half a year since the latest official publishing of the Judge Program Organizational Chart and now there is a new updated version. You can read all about it here.
Translated Rules
The Magic Comprehensive Rules document has been updated. The last version, for August 10th 2018, can be found on Wizards' website and on DCIRules.org. Since this is the update that goes with Commander 2018, there is no Update Bulletin. Surely there will be some comments with the Guilds of Ravnica update!
Find out which Judge Conferences, Grand Prix and SCG Opens have available worldwide staffing positions! You still have some time to apply for GP Portland, GP Liverpool, SCG Open Philadelphia, SCG Open Dallas and SCG Open Charlotte.
Check out the Grand Prix Solicitations and Select Staffs for more details on individual tournaments and to know if there are some last minute solicitations you can apply to!
Public Projects such as Magic Judge Articles 2018 Update are looking for awesome judges who can help! If you wish to get more out of your Judging experience and give back to the community, sign up for something that interests you!
Sugar on Top!
Recently, Dustin de Leeuw ran a task token game at GP Prague!  Here's what he had to say about it!
"I always look for ways to turn chores into fun challenges. One of the most fun things I can think of is playing draft. So why not draft the team tasks every round? For the Feature Matches Team at GP Prague, we had 4 distinct tasks to perform each round, 5 judges in the team, and this all added up to this nice little game. What I appreciated most is how taking the break-token was handled in the most fair, democratic and caring way possible!"